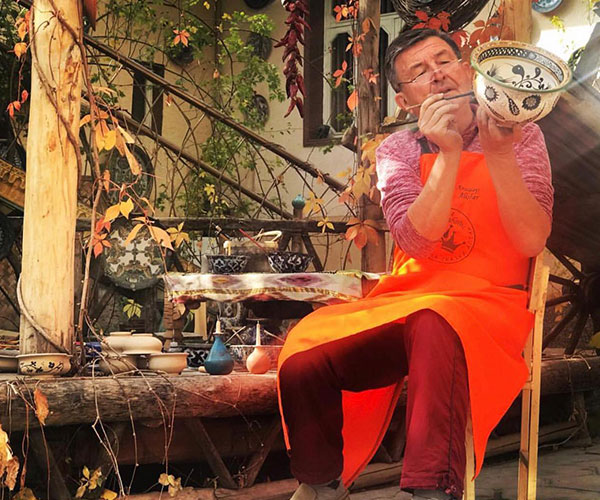 An Introduction
Silk Route Global is not just an online store, it is much more than that. It is a collection of handwoven items made by the best ceramic workers from Bukhara and Samarkand. These artists have a talent that has been passed onto them by their ancestors. It is a hub of such meaningful and historical goods that have stories of generations written all over them in the form of unique handcrafted work. Our work is very much appreciated by people who realize the value of Central Asian culture and also by many other people who fall in love with the details right after looking at them. Everything we provide here can be found in each and every corner of Bukhara and Samarkand. What we do is introduce these valuable pieces of work here done by highly professional masters and sell them to the people who cannot find such artwork anywhere else in the UK.At Silk Route Global we make sure to infuse the Central Asian culture in our items wholeheartedly. We believe in filling the culture of our roots in the unique designs of our masterpieces that are composed by highly competent artists. We have built this website to help you find our artistic handcrafted items and at great prices! Our aim is not just to earn money, we want to let people know how beautiful Central Asian culture is and how it can modernize your lifestyle.
Why Choose Us?
If you have a deep consideration for authenticity, quality and uniqueness then you must know that at Silk Route Global we do not think below that. Our Silk Cushions that are made with 100% pure silk, our leather items made with Quality leather, our Handmade scarf made with love and care. Every single thing signifies a sense of heartiness that can only be found at Silk Route Global. Everything from Pure Cotton Fabric rugs to Leather Bags with hand knitted socks for children and so much more brought to you all the way back from Samarkand and Bukhara. Not even a single item we sell has been ignored in terms of quality. We can be so sure because these are not "just items" for the masters who create them. They pour their hearts out while making these phenomenal pieces of artwork for their customers as they believe that the reputation of generations depends on every bit of the work they do.
Our Aim
To be able to provide traditional handcrafted work from Central Asia to people who have a hard time finding it all here in London. We are confident in the items we put up for sale because we are aware of the hard work and care that has been put into them. Once you have a look at our historic and well-defined work you will imagine yourself standing on the Silk Road in Samarkand. Such is the originality sold by us.